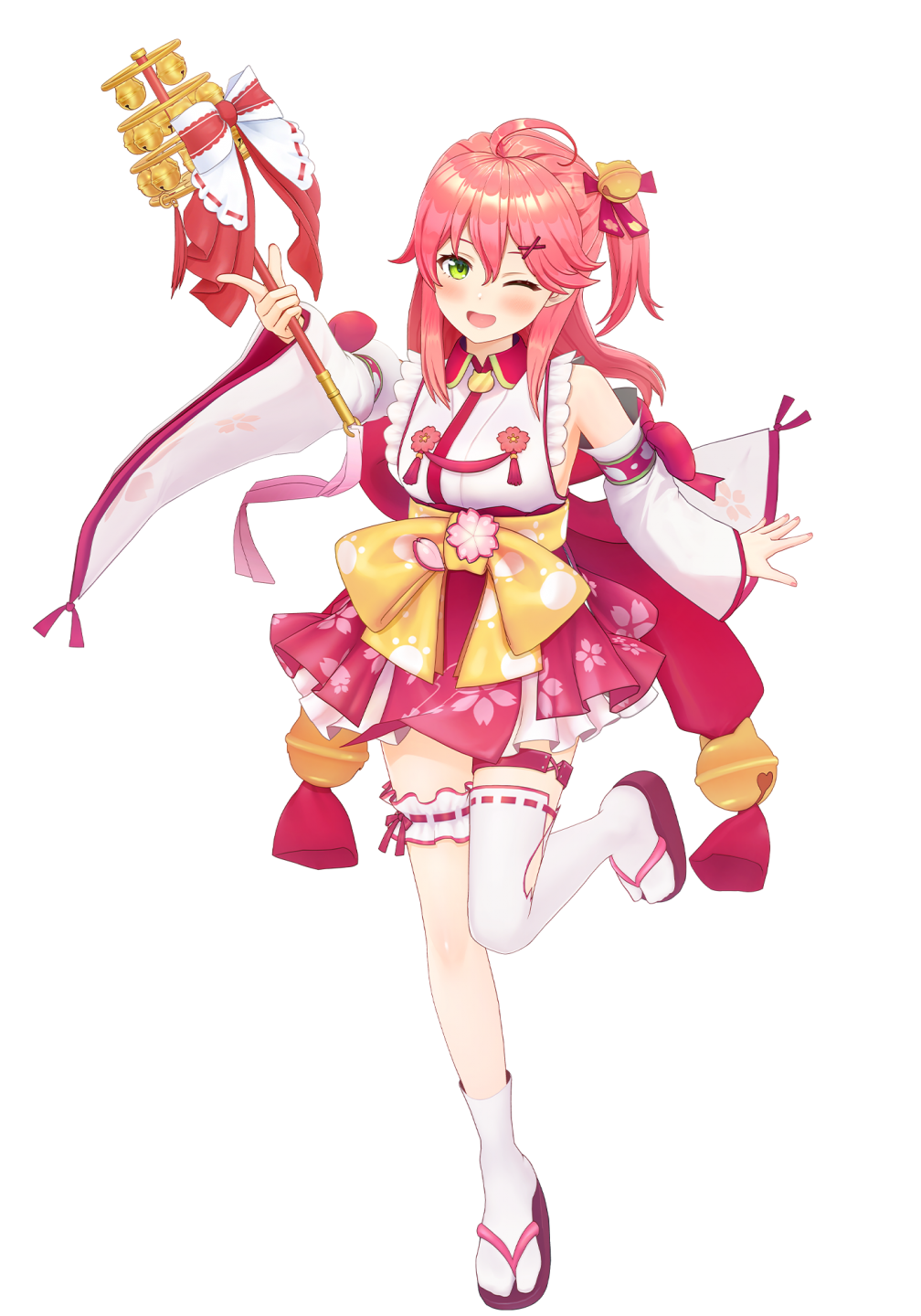 Sakura Miko
さくらみこ
"Nya-hello! I'm the elite shrine maiden of hololive, Sakura Miko!"
Used to work hard in the Virtual Sakura Shrine accomplishing duties as a shrine maiden until, following the gods' orders, she was led to Japan where she found out about Tokino Sora. After developing huge admiration for her, she decided to become a virtual shrine maiden idol and continue to keep working hard for that dream!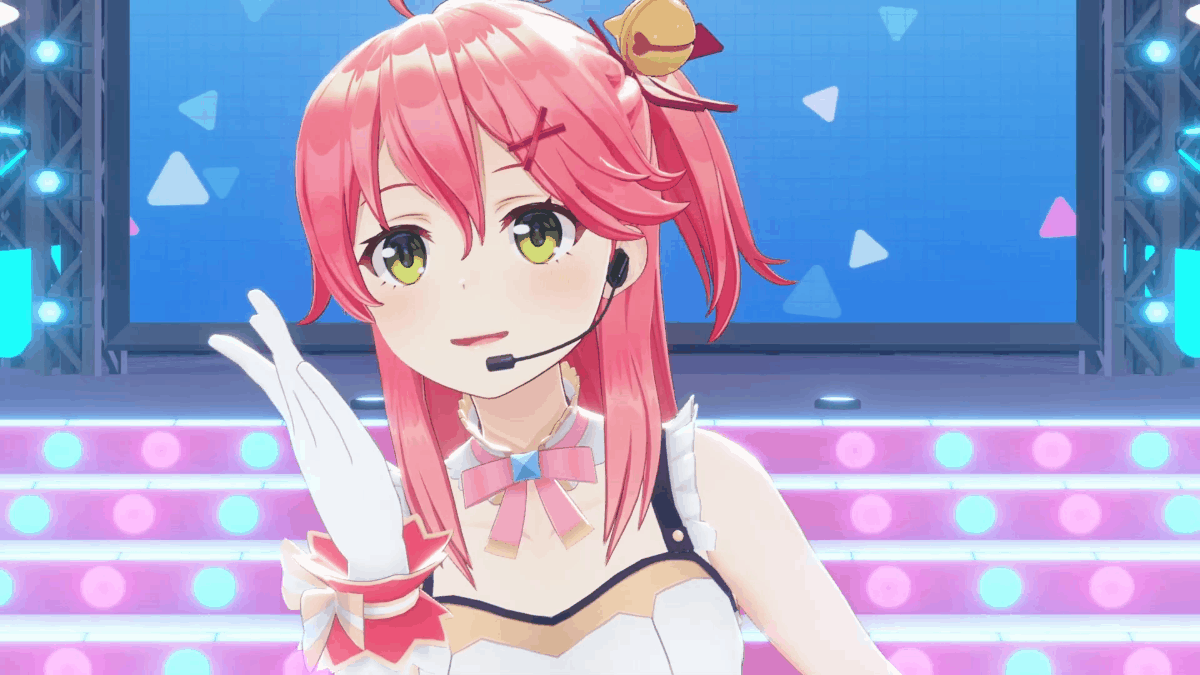 DATA
Birthday

March 5
Debut

August 1, 2018
Height

152 cm
Unit

hololive Generation 0
Illustrator
New Outfit Designer
Dream

To become someone that everyone will know as an elite and unmatched top one shrine maiden idol! And forever stay as someone that can bring a smile to your face!
Fan Name

35P (read as "Miko-P")
Hashtags

Stream Tag: #みこなま
Fan Art: #miko_Art
MMD works: #さくらみこMMD
Catchphrases

"Nya-hello!":Miko's special greeting.
"Otsu-Miko!":Miko's special goodbye.
"…nye": I use it instead of "…ne", the particle used when expecting a positive response.
"Tentai": I use it to say I'm a genius ("tensai" in Japanese).
"Picon!": I use it when I have an epiphany.
"Miko-chiku": To pull an all-nighter while streaming. (Portmanteau of "shachiku" (社畜, corporate slave) and "Miko" (みこ).)
"Elite": Someone who does their best and never gives up.
"Shiketennye": Used when the outcome is unfavorable.
"Miko shitteyuyo~!": Used when I actually have no idea, or when I'll use my shrine maiden powers to make a premonition.
"Achu! Achu!": Means it's hot. (Mostly used when taking damage from lava.)
Message

When I first started this I was all by myself, but before I knew it, every single day I was having a blast next to all my friends and my wonderful fans (35P)!
To give back for all the support that I've been given, and to be able to make you smile every day, I'll always do my best on my streams and idol activities! Always in my very own elite way! So come over whenever you want!
Regular/Specialty Streams

Gameplays, movie watch-alongs, collaborations, and karaoke from time to time.
Special Skills

Thumbnail making, losing all items in games (according to 35P), and homemade cooking.
Q&A
Q. What are your favorite things?
― A: Eroge, anime, and streaming.
Q. What's your favorite food?
― A: Taiyaki.
Q. What are you not good at?
― A: Rock-paper-scissors and tongue twisters.
Q. What's your nickname?
― A: Mikochi or Elite Miko.
Q. What is Miko like?
― Answered by fans:
A: Really hard worker.
A: It's as if one of us had sacrificed good articulation and became cute in return.
A: A beautiful girl whose intelligence got sucked away by her cowlick.
HISTORY
– 2018/8/1

Start "Sakura Miko Project" activities
– 2018/12/25

Joined hololive
– 2019/2/26

Released My Name Is Elite☆, first original song
– 2020/1/24

Performed in hololive's 1st fes. "Non-stop Story"
– 2020/3/27

Released Sakura Kaze, second original song
– 2020/8/26

Released opening for AiKiss 2 (vocals: Sakura Miko, Houshou Marine, and AZKi).
– 2020/9/8

hololive x maimai deluxe Splash collaboration
Formed original unit with Tokino Sora and released Mai Odore! Mai Mai Time
– 2020/11/16

Released PekoMiko's original song PekoMiko Dai Sensou as part of hololive's 2nd collaboration with WACCA
– 2020/11/27

Released AiKiss2 Deluxe Edition (including theme music & I've 20th cover song album, Poppin Kiss)
– 2020/12/2

Created Twitch account
– 2020/12/21

Performed in hololive 2nd fes. Beyond the Stage Supported By Bushiroad STAGE1
– 2020/12/23

Revealed new 3D model and released Sakura-Iro High Tension, third original song
– 2021/2/17

Performed in hololive IDOL PROJECT 1st Live. "Bloom,"