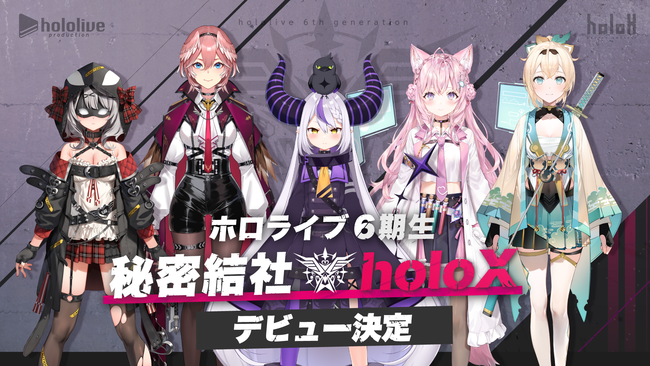 2021.11.26

hololive 6th Generation "Secret Society holoX" to Debut From Tonight!

COVER Corporation (Chiyoda-ku, Tokyo; CEO: Tanigo Motoaki) has announced that hololive 6th Generation "Secret Society holoX," based under the hololive production division, is set to debut.
The female VTuber group hololive, managed by hololive production, will debut its long-anticipated 6th Generation of hololive members. Under the unit name Secret Society holoX, its five members will comprise of La+ Darknesss, Takane Lui, Hakui Koyori, Sakamata Chloe, and Kazama Iroha.

The five talents will commence Twitter activities from today. In addition, debut streams are scheduled to begin at 9 PM, Friday, November 26, 2021 (JST), one talent per day. Be sure to check each talent's section below for further information. We have also released a promotion video, so please watch it.