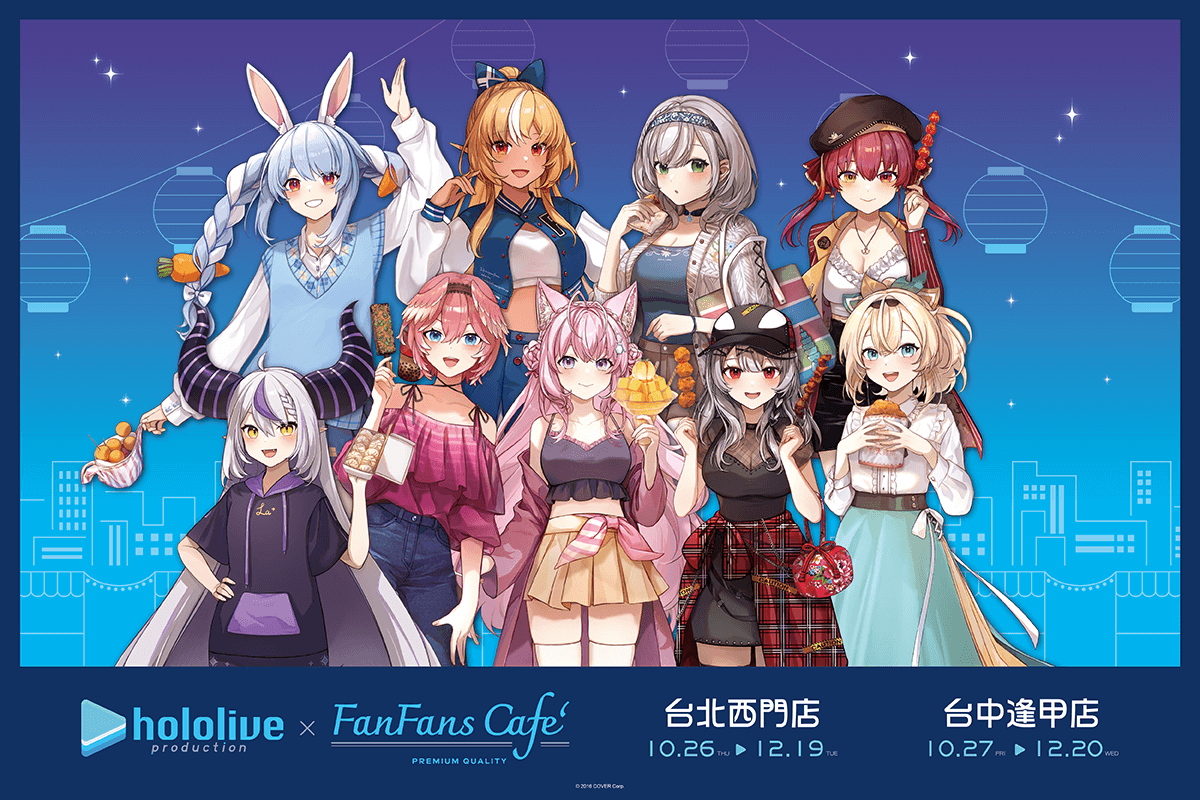 2023.10.27

"hololive production @ FANFANS CAFÉ" Collaboration Cafe in Taiwan from October 26th

hololive production @ FANFANS CAFÉ collaboration café will be open from October 26th, 2023 in two locations in Taiwan. hololive 3rd Generation and holoX members will be appearing in FANFANS CAFÉ at Taipe Ximen and Taichung Feng Chia. This will be the first overseas collaboration for members of holoX.

FANFANS CAFÉ will collaborate with 9 members of hololive production: Usada Pekora, Shiranui Flare, Shirogane Noel, and Houshou Marine; while holoX 's La+ Darknesss, Takane Lui , Hakui Koyori, Sakamata Chloe, and Kazama Iroha will be appearing for the first time in an overseas collaboration cafe. Taiwanese Illustrators, Eden 狐狸 and Tanukii 茶浣熊 will be illustrating a special "Night Market" theme, in which the talents will be illustrated with various local characteristics street food such as fried chicken, pan-fried bun, fried sweet potato balls, and candied gourd. Also at this time, FANFANS CAFÉ will serve dishes and drinks inspired by the talents, as well as limited products that are available during the collaboration cafe. It is a rare occasion that fans cannot pass up!

In the aspect of decoration, FANFANS CAFÉ creates a "FANFANS Night Market" directly! When entering the arch in FANFANS CAFÉ Taipei Ximen, it feels like you are entering the real night market. There are Character stands and Chibi-shaped decorations of 9 members surrounding the store. It still can find some "local" decorations such as blue-and-white slippers and a grandma bag. While in the FANFANS CAFÉ Taichung Feng Chia, members' character stands are waiting for everyone at the door. It also sticks 9 members' illustrations on the window. Houshou Marine and Kazama Iroha will welcome fans on the second floor, surrounded by good vibes.
FOOD AND DRINKS
Aside from the night-market-styled decoration, foods and drinks are also full of character! It will release 4 main meals, 5 desserts, and 10 drinks. Every meal will be served with corresponding talent food tag cards on the dish.
During the event, buy any drink to get a free "hololive production" character coaster. There are Taipei and Taichung limit editions (including full-size and Chibi, 20 types to distributed randomly).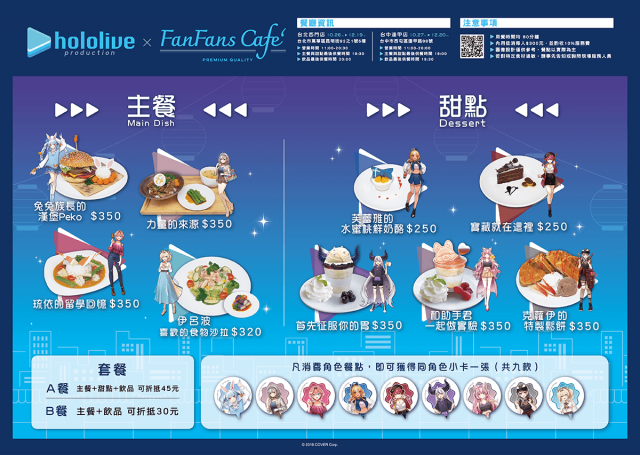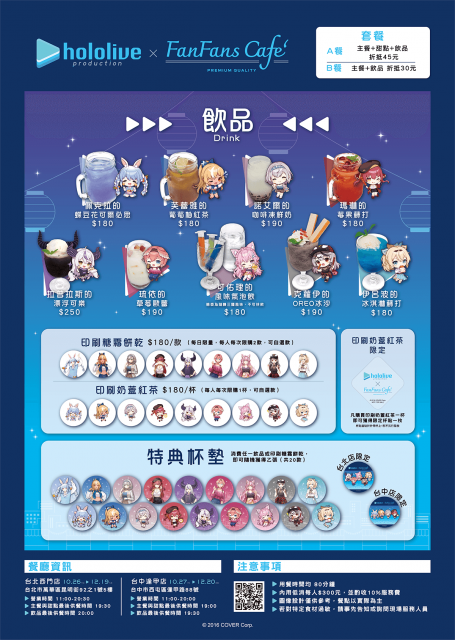 Reserved the seats on website, and get hololive production talent SNS clear card
During the event, just book the seats on "FANFANS CAFÉ" specific reservation sites before coming to eat and receive a "hololive production" member SNS clear card. 9 types are waiting for you to collect!
FANFANS CAFÉ Reservation Site : https://reurl.cc/zA09V7
MERCHANDISE
People who dine at the two FANFAN CAFÉ locations will be eligible to purchase a series of merch designed by "FANFANS" with themed illustrations at the cafe, including Character Stands, Mouse Pad, Towels, Hanging Scrolls, Cushions, Power Bank, Wireless Charger, T-shirts, and Frameless Painting. There will also be limited products with one-of-a-kind illustrations, on badges, color papers, Chibi acrylic keychains, and the chibi card holder with random members' cards. In addition, the restaurant will release bolster pillow covers, frameless painting, and a paper bag.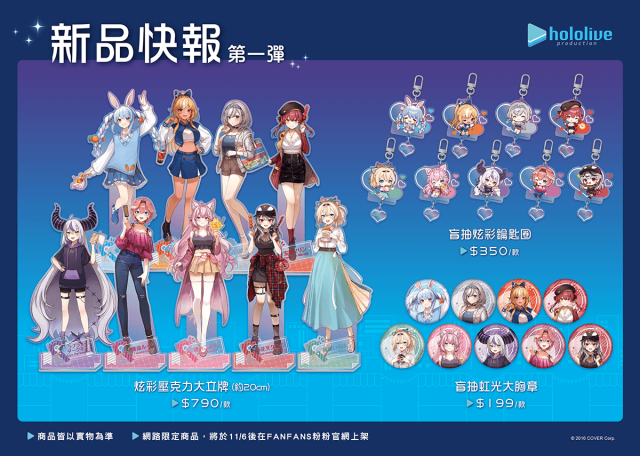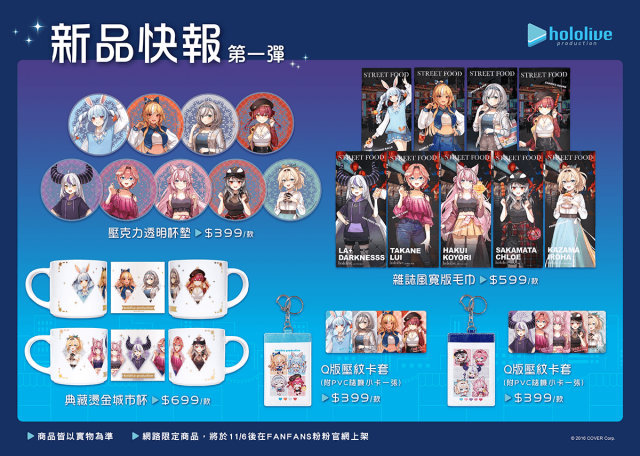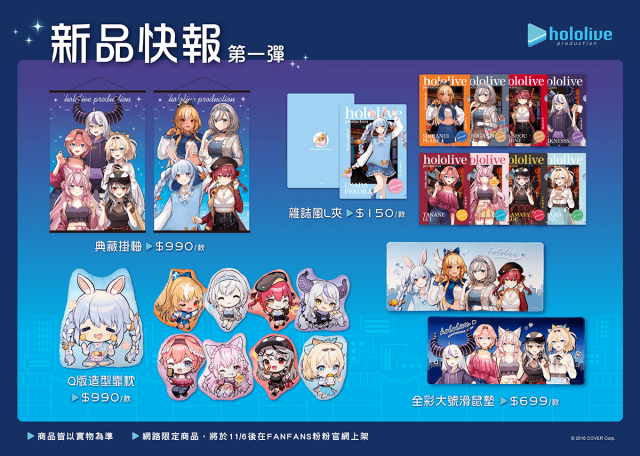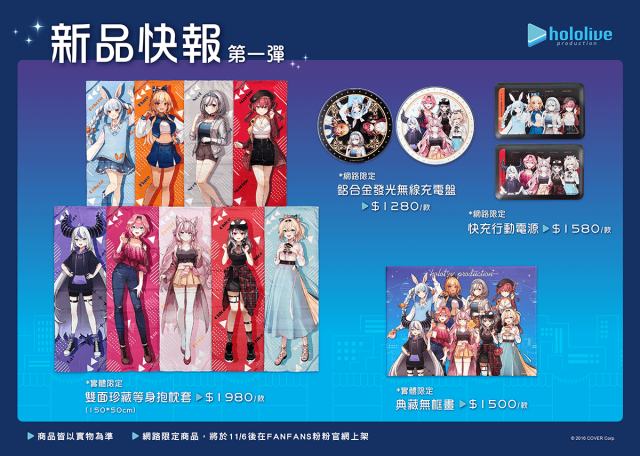 If you cannot go to the store during the time, the products will be available on the "FANFANS" official website on November 6th. There will be website-exclusive products like the power bank and unique wireless charger with exquisite printing. Customers purchasing "hololive production" series goods for over $999 NTD online will receive hololive production members' SNS clear card (9 random styles, limited quantity while supplies last).
Official Website : https://reurl.cc/K3d8pj
hololive production @ FANFANS CAFÉ Information
Period
Ximen Store : October 26, 2023 – December 19, 2023
Feng Chia Store : October 27, 2023 – December 20, 2023
Locations
Ximen Store : 5th Floor, No. 92-1, Kunming Street, Wanhua District, Taipei City
Feng Chia Store : No. 88, Fengjia Road, Xitun District, Taichung City
Operating Hours
Ximen Store : 11:00 AM – 8:30 PM
(Last order for food 7:30 PM / Last order for dessert and beverage 8:00 PM)
Feng Chia Store : 11:00 AM – 8:00 PM
(Last order for food 7:00 PM / Last order for dessert and beverage 7:30 PM)
For more information, please check:
FANFANS CAFÉ Facebook : https://www.facebook.com/fanfanscafe
FANFANS CAFÉ Reservation Site : https://reurl.cc/zA09V7
FANFANS hololive website : https://reurl.cc/K3d8pj

Note and Reminder:
*This cafe is planned and operated by FANFANS CAFÉ. For inquiries regarding collaboration cafe and merchandise sold at the collaboration cafe, please contact FANFANS CAFÉ.
*The restaurant provides "reservation" priority. If the reservation is full, on-site waiting tables will not open until the reserved guests arrive. Seats are not guaranteed. To avoid long waits or disappointments, it is recommended to make a reservation online in advance.
*Meals on weekdays and holidays have an 80-minute limit and are calculated based on the meal. Minimum spending of $300 per person during weekdays and holidays will be subject to a 10% service charge. No take-out service is provided for dine-in use, and take-out service is not available for main meals and desserts. Please refer to the on-site announcement for the actual take-out service.
*The goods sold in this restaurant are subject to on-site supply conditions and do not apply to the promotional information on the FANFANS official website.
*This goods area is only open to dining fans. Fans also can purchase at FANFANS official website starting 6th November.
*FANFANS CAFÉ reserves the right to change activities and final interpretation. If business information is adjusted due to the epidemic, it will be announced on the FANFANS CAFÉ Facebook fan page.
*Shipping for the online store is only available to Taiwan, Hong Kong, and Macau
*Some of the items are not available online