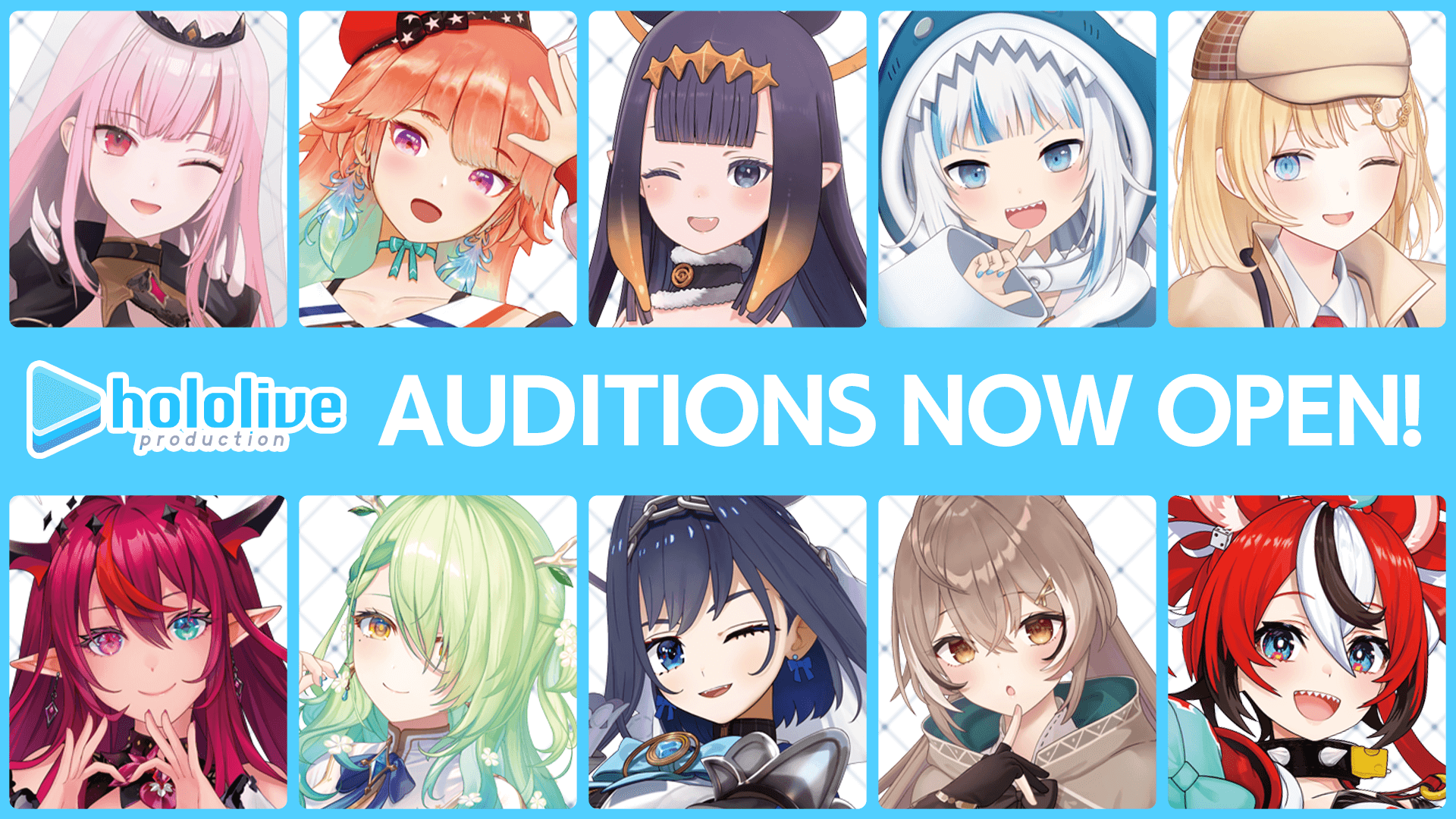 2023.05.24

hololive English is Holding VTuber Auditions

We at hololive production are recruiting talented and passionate content creators looking to entertain viewers on a large scale through livestreaming and other entertainment outlets including music, live concerts, and promotional appearances.
Those who pass our audition may be given the opportunity to debut as a new hololive English VTuber. This is your chance to perform in front of the world as a virtual entertainer!

What is hololive English?
hololive English is a group of English language virtual content creators that entertain millions of fans across multiple platforms.
hololive English is the most popular English language VTuber (Virtual YouTuber) group in the world with over 15 million subscribers across 10 YouTube channels.
hololive English also performs in live concert events in full body motion capture 3D, creates original merchandise, and collaborates with big-name brands.
Comprehensive Support System
We have the resources and expertise to turn your ideas into reality!
High-quality avatars illustrated by prolific artists
Dedicated managers for each talent
Industry-level motion capture studio
Marketing and sales teams to provide and coordinate paid sponsorship and collaboration opportunities
Full support in producing and selling original merchandise
Assistance in creating original music from a team of music industry professionals
Opportunities to appear in events and 3D concerts around the world
And more!
hololive English's Activities
-- Original Music --
-- Daily Livestreaming --
-- Full 3D Livestreaming --
-- Live Concerts --
What We're Looking For
Content creators and entertainers from all backgrounds are welcome to apply.
Those with the following skills and traits are given extra consideration:
Skilled competitive gamers of any genre
Experienced and proven livestreamers and content creators
Talented voice actors
Multilingual individuals
Experienced video editors
General requirements:
Age 18 or over at the time of auditioning
Ability to fully commit to content creation and streaming/submitting content at least 3 times per week for an extended period of time
English fluency
Has clear goals and objectives as an entertainer
Not currently affiliated with an entertainment agency/label or has the ability to terminate any affiliation if given the opportunity to debut
Ability to comply with rules and regulations regarding the audition process
Timeline
Only those who pass the initial selection process will be contacted.
1. Audition Form Screening
Those who pass the initial screening will be contacted within 1 month of auditioning.
2. Interviews
There will be multiple stages of interviews conducted over video calls.
3. Final Results
Those who participate in the final interview will be given their results via email.
Please note that passing our audition process does not necessarily guarantee a debut.
We look forward to your participation!