2022.08.15

hololive Indonesia Has Reached Over 7 million YouTube Subscribers Across All Its Talents' Channels, Special Ad Take Over Senayan Station in Indonesia

COVER Corporation (Chiyoda-ku, Tokyo; CEO: Tanigo Motoaki) has announced that "hololive Indonesia" has reached over 7 million YouTube subscribers across all its talents' channels.

hololive production began VTuber operations in September of 2017. Since then, it has increased its roster to 71 Japanese and abroad VTubers, and as of May 2022, hololive production has reached over 60 million YouTube subscribers across all its channels. It has become a popular VTuber agency not only in Japan but also overseas, particularly in English-speaking and Asian markets.

A special advertisement with all hololive Indonesia talents was posted at Senayan Station on the North-South Line of the Jakarta MRT in Indonesia from August 15th, 2022.
Please check it out and share your impressions on social media using the hashtag #holoIDSenayan.

The first cross-branch Minecraft event "holoID Cup 2022" will be held by hololive Indonesia VTubers from 11 AM to 2 PM, August 16th, 2022. (WIB) VTubers of hololive and hololive English will participate as special guests, so don't miss it.

Furthermore, new content will be released on the hololive Indonesia official YouTube channel on August 17th, 2022.
Teaser video: https://www.youtube.com/watch?v=apZS5WvoDAQ

We wish to express our sincere gratitude to all of our fans for their continuous support and encouragement. We at hololive production will continue to devote our energies to creating content that will be loved worldwide.
Special Ad at Senayan Station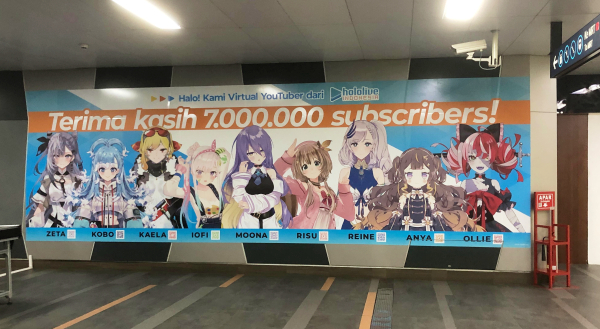 Venue: Senayan Station on the North-South Line of the Jakarta MRT in Indonesia
Period: August 15th, 2022, to September 14th, 2022
*Please refrain from contacting the station or its staff about the ad.