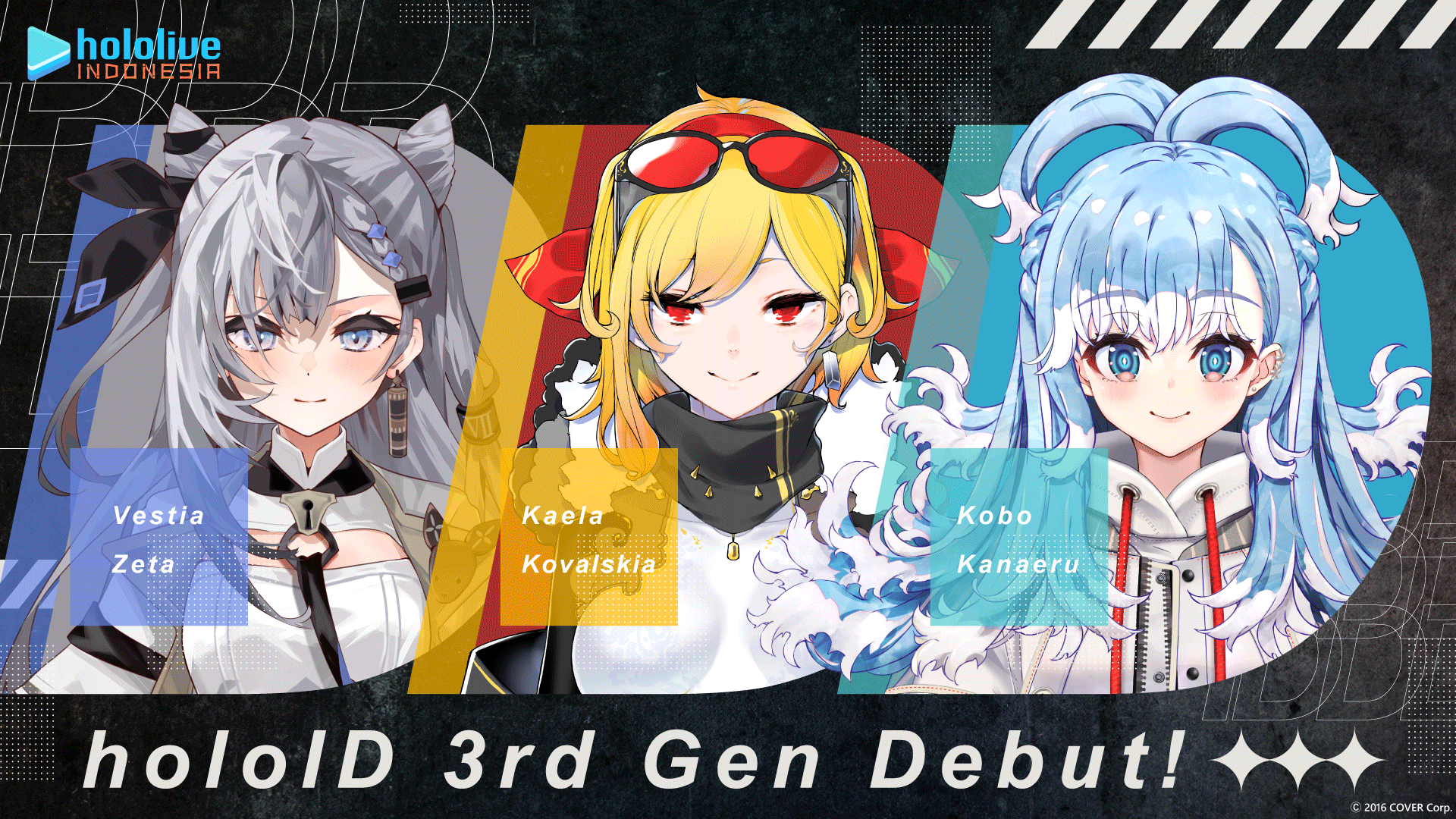 2022.03.24

hololive Indonesia Generation 3 Set to Debut!

Debut streams set for March 25-27 on each of their YouTube channels!

Operated by COVER Corporation (Chiyoda-ku, Tokyo; CEO: Tanigo Motoaki), formed under the all-female VTuber group hololive, hololive Indonesia is pleased to introduce hololive ID Generation 3, which is based on the "Everyday Hero" theme!
Vesita Zeta, Kaela Kovalskia, and Kobo Kanaeru have opened their social media accounts, such as Twitter and Facebook, and YouTube channels. From today, all three will begin actively using these social media accounts.
Zeta, Kaela, and Kobo will introduce themselves in their debut streams from Friday, March 25, 2022, to Sunday, March 27, 2022. For more information, please see their details below.
In celebration of this announcement, we have also prepared a promotional video that you can enjoy while awaiting their individual debuts!
[Debut PV] hololive Indonesia 3rd Generation
https://youtu.be/911mrZY49x0
Vestia Zeta
She is the mysterious 7th recruit of The Secret Archive Unit that has a full license to collect virtual data.
Despite her being a promising rookie, who is also known as codename V.7, she turns clumsy when things are not going exactly according to the manual.
It was initially a lonely mission to infiltrate the virtual world, but now she had found comfort here. Will this mission end up leading her to a new destiny instead…?
[Character Designer] Arutera @TeraAru6262
[YouTube] https://www.youtube.com/channel/UCTvHWSfBZgtxE4sILOaurIQ
[Twitter]https://twitter.com/vestiazeta
Debut Stream on YouTube
10 PM, Friday, March 25, 2022 (JST)
Kaela Kovalskia
After taking over her great blacksmithing teacher's forge, she felt a lack of excitement in her life.
So, she decided to be free and depart on a journey to find rare smithing materials, one of which was rumored to be under the building of a certain idol group in town.
She also loves challenging herself and has a peculiar taste when it comes to foods!
[Character Designer] Yasuda Suzuhito @suzupin
[YouTube]https://www.youtube.com/channel/UCZLZ8Jjx_RN2CXloOmgTHVg
[YouTube]https://twitter.com/kaelakovalskia
Debut Stream on YouTube
10 PM, Saturday, March 26, 2022 (JST)
Kobo Kanaeru
A carefree girl who lives in the topmost room of a lighthouse, she is actually the bloodline of the strongest rain shaman in the area. She has great potential to control rain, but she does not like to do it as a task.
In order to win back her Rain Master title, she needs to prove to her family that she can keep their rain shaman service afloat. Not only does she have to train daily, but she also needs to adopt some sort of virtual marketing strategy to succeed!
[Character Designer] Ponkan⑧ @ponkan_8
[YouTube]https://www.youtube.com/channel/UCjLEmnpCNeisMxy134KPwWw
[Twitter]https://twitter.com/kobokanaeru
Debut Stream on YouTube
10 PM, Sunday, March 27, 2022 (JST)