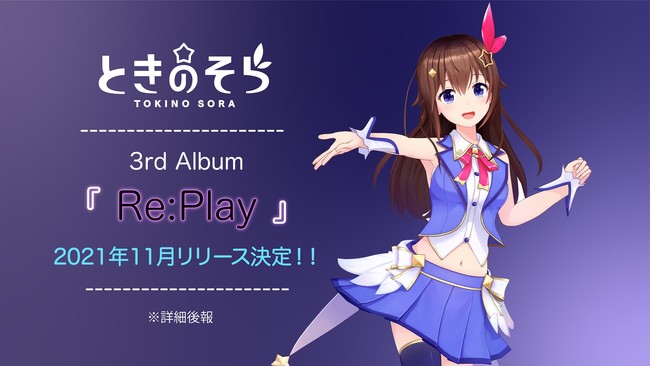 2021.09.07

[Music] Release of Virtual Idol Tokino Sora's New Cover Album "Re:Play"!

Tokino Sora celebrated her 4th anniversary as an artist today, September 7th, and will be releasing a cover song album for her first release as she embarks on her 5th year of activities.

As the title suggests, "Re:Play" is a collection of popular songs reimagined and sung in Sora-style. As a VTuber, Sora has challenged herself with various types of work, but her well-received song covers have always been a source of pride to her. Having reached her 4th anniversary, she is once again going back to her roots and releasing a cover album while challenging new genres of music, with an original Sora take. This album embodies Sora's thoughts and feelings as she takes a new step forward together with her fans, the Sora-tomo.

More details about the album, including the song list, will be announced at a later date.

Furthermore, to celebrate her 4th anniversary, all of Sora's previously unreleased songs will be made available on Wednesday, September 8th at 12 AM. This will include five tracks: "Seesaw Game", which was released as a secret track for the limited first edition of "Dreaming!"; acoustic versions of "Kotobakaze," "Wonderland," and "Step and Go!!," which were included in the limited first edition of "Parallel Time"; and the acoustic version of "Suki, Naichaiso da," which had only been made available on YouTube. Please check out these amazing tracks!
Album Release Information
3rd Album "Re:Play" to be released in November 2021!
* More details to be announced later
Song Digital Distribution Information
The following five songs will be released!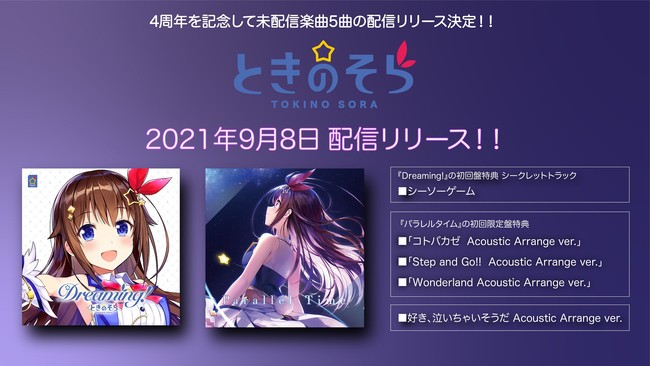 ■ Release: Wed, Sep 8, 2021, 12 AM
Title: Kotobakaze (Acoustic Arrange ver.)
 URL:https://jvcmusic.lnk.to/Kotobakaze
Title: Wonderland (Acoustic Arrange ver.)
 URL:https://jvcmusic.lnk.to/Wonderland
Title: Step and Go!! (Acoustic Arrange ver.)
 URL:https://jvcmusic.lnk.to/Step_and_Go
Title: Suki, Naichaiso da (Acoustic Arrange ver.)
  URL:https://jvcmusic.lnk.to/Suki_Naichaisoda
Title: Seesaw Game
 URL: https://jvcmusic.lnk.to/Seesaw_Game
* Available on the following streaming services: Apple Music, LINE MUSIC, Amazon Music Unlimited, AWA, KKBOX, Rakuten Music, RecMusic, Spotify, YouTube Music