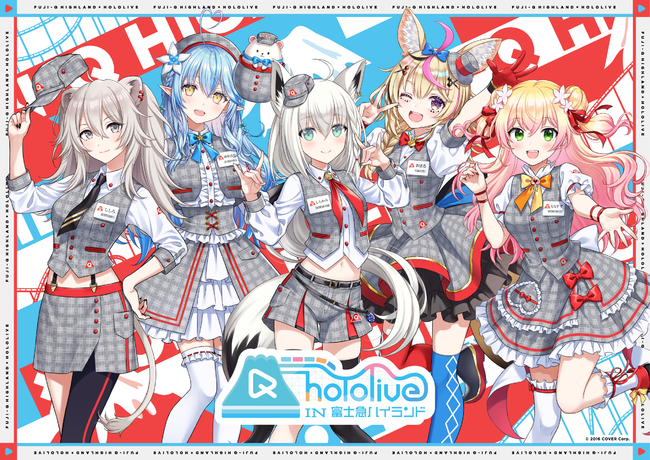 2021.09.06

[Collab] VTuber Group hololive to Collab with Fuji-Q Highland from Saturday, September 18th!

We are pleased to announce the first collaboration of our VTuber group "hololive" with "Fuji-Q Highland." During the promotion period, special collaboration versions of broadcasts and ride announcements will be played in the theme park for your enjoyment.

Furthermore, tickets including merchandise will also be available, as well as other exclusive original events including a digital stamp rally and special collaboration menu. hololive-themed buses and trains will also be in operation.

Please take this opportunity to visit Fuji-Q Highland for a unique hololive experience.
Collaboration Details
Period: Sat, Sep 18, 2021 till Sun, Oct 31, 2021
Special Site: https://www.fujiq.jp/special/hololive/index.html/
Collaboration Contents: 1) Collaboration decorations in and around the theme park
        2) Special collaboration ticket with original novelty bonus
        3) Park and attraction announcements featuring hololive talents 
        4) Collaboration decoration across the main entrance
        5) Stamp rally and attraction rally using your smartphone
        6) Various collaboration foods and original merchandise
        7) Special collaboration trains and buses
        8) Collaboration with neighboring facilities
        * For more information, please check the event site.
Fuji-Q Highland Business Information
Official Website: https://www.fujiq.jp/
Business Hours: Please refer to the official website before visiting the park.
Park Entrance Fee: Free
Free Pass Fee: Adults 6,300 yen / Junior high and high school students 5,800 yen / Children (7 years and older) 4,600 yen /
Infants (1 year and older), Seniors (65 years and older) 2,200 yen
Access: [Car] Approx. 80 minutes from Shinjuku via the Chuo Expressway, adjacent to Kawaguchiko Interchange (IC)
             Approx. 90 minutes from Tokyo via the Tomei Expressway IC and Higashi-Fujigoko Road
          [Bus] Approx. 100 minutes via the highway bus from Shinjuku, exit at Fuji-Q Highland
* In addition to the Tokyo metropolitan area, direct bus services are available from over 30 locations in Nagoya and Kansai.
[Train] Take the Chuo Line, change to the Fujikyu Line at Ōtsuki Station, and exit at Fujikyu-Highland Station.
    Approx. 50 minutes from Ōtsuki Station
■ Inquiries
Fuji-Q Highland: TEL 0555-23-2111
Before entering the park, please be sure to read the "Infectious Disease Prevention Measures" posted on the official Fuji-Q Highland website.
http://www.fujiq.jp/event/h5f6de000001zfug.html
Fuji-Q Highland prioritizes staff and visitor health and safety by endeavoring to comply with the "Guidelines for Preventing the Spread of New Coronavirus Infections in Amusement Parks and Theme Parks" when implementing infectious disease prevention measures so that all visitors can enjoy themselves with peace of mind. Please check Fuji-Q Highland's official website for the latest information regarding infectious disease prevention measures and business operating information.