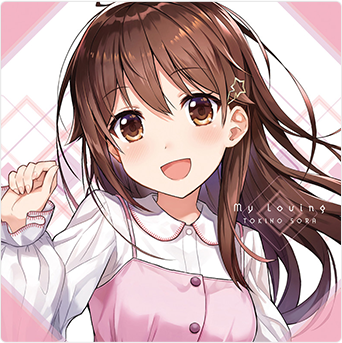 Tokino Sora

My Loving

Price:¥2,000 plus tax Product number:VICL-65329 2020/3/4 on sale

This album includes songs such as "Furee Furee Love", which was composed by Tada

Shinya and released in advance as a single; "Setsunatheque Code", a collaboration work

together with INoNaKa Music's powerful and stylish VSinger AZKi; "Wonderland", which is a song with a cute, energetic and pop feel that is filled with Sora's feelings of wanting to

be with her "Soratomo" (Tokino Sora's name for her fans) forever; and other songs like

"Yukkuri Hashireba Kaze wa Fuku", for a total of 6 tracks all of which will lure you into

Tokino Sora's world.

* Different stores have different bonuses, so please check each store's individual website

for details.

Click here for the Tokino Sora "My Loving" special site!
Track List
ときのそら×AZKi 初オリジナルコラボソング!!「刹那ティックコード」、配信シングル「フレーフレーLOVE」を含む、全6曲収録!
01. Equation of Love
02. Wonderland
03. サヨナラブロッサム
04. 刹那ティックコード
05. フレーフレーLOVE
06. ゆっくり走れば風は吹く
DOWNLOAD