2022.7.21Thu
Mori Calliope Major Debut Concert "New Underworld Order"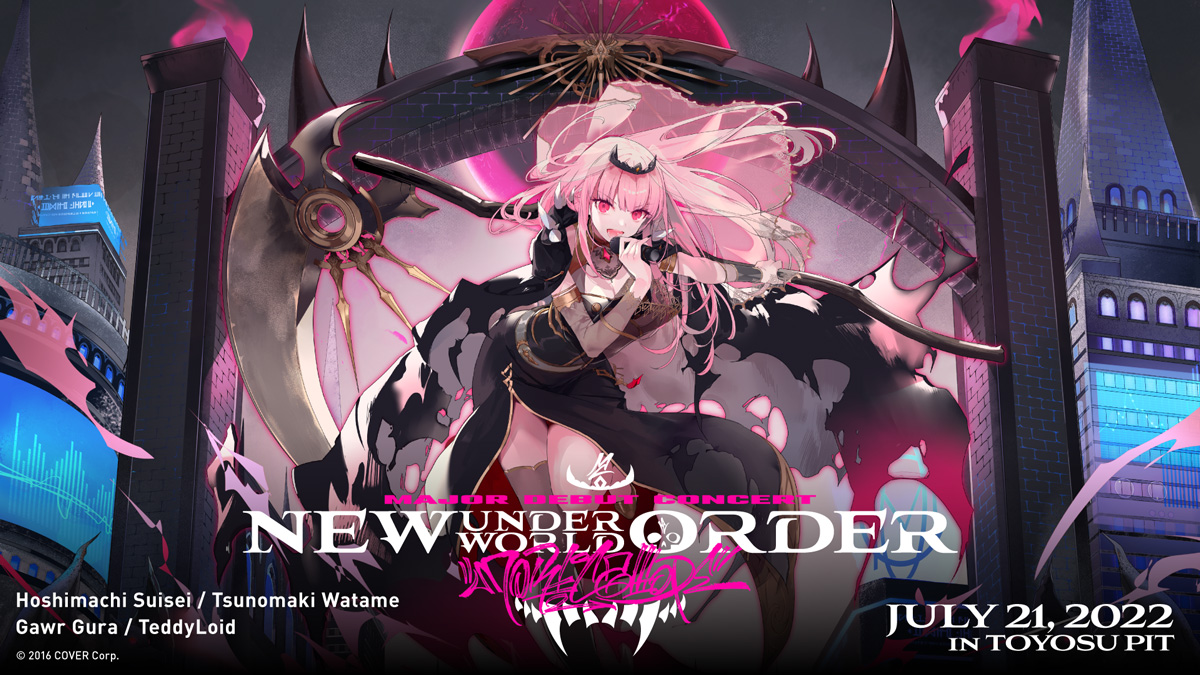 VTuber group hololive English talent Mori Calliope held her first solo concert on Thursday, July 21st, 2022 at Toyosu PIT and streamed online.
We take a look at Calliope's Mori Calliope glamorous performance with this report, including photos from the day.
The dark stage was decorated with Grim Reaper motifs on either side as well as above it, which gave an impactful statement, forcing you to be a part of the "Underworld". After the venue announcements, the audience stood in unison as the opening video formally introduced "New Underworld Order", and the twinkle of acrylic lights lit up the venue.
Kicking off the major debut concert was "guh", named after a memorable phrase uttered by Calliope on stream. The relaxed beat was the perfect opener and the song's smooth flow warmed up the audience.
– Song 1: "guh"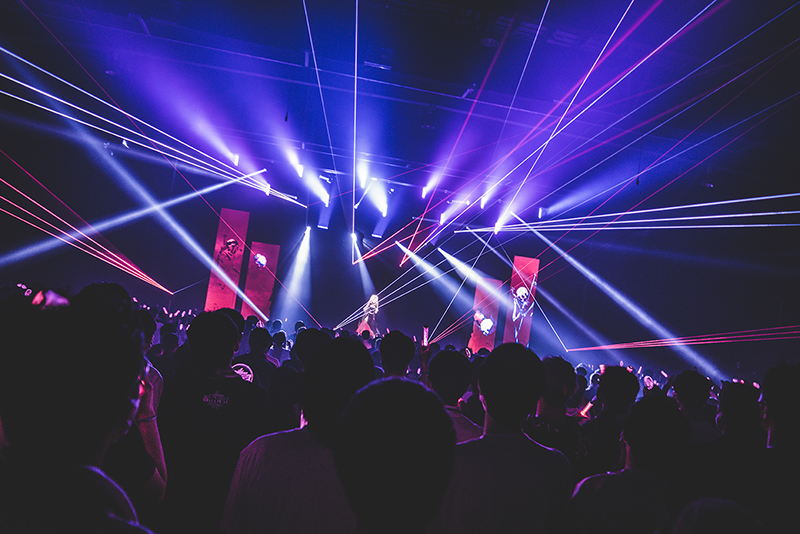 Once "guh" ended, Calliope gave a "What up, everyone?", called out to her fans, the Dead Beats, and went straight into "Holy嫉妬". Her long pink hair shook as she rapped with her sweet rhymes, and she rocked an awesome pose at the end of her third song "Kamouflage", giving the aura of a female rapper who is truly active in another dimension.
-Song 3: "Kamouflage"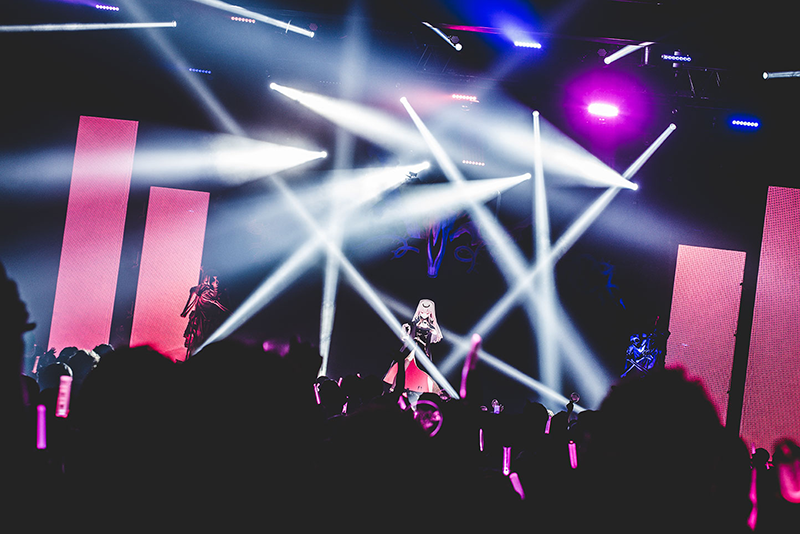 Audience excitement was already reaching its peak by the time "Dead On Arrival" was performed with a gorgeous arrangement reminiscent of electro swing. Calliope dominated the opening of the concert by continuing to unleash a constant barrage of up-tempo bangers that looked amazing in a large venue like that of Toyosu PIT. The song "Red", as the title implies, gave dramatic vibes as the venue was filled with red from the stage lights and the fans' acrylic lights.
– Song 5: "Red"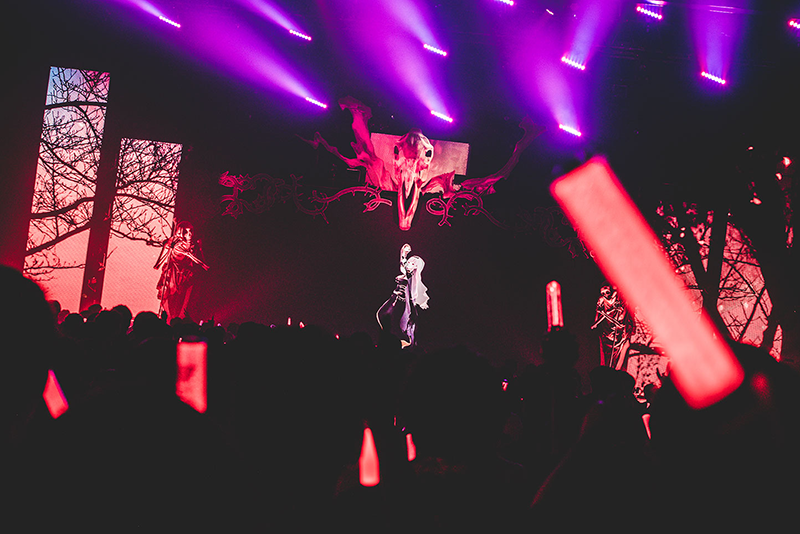 A special segment of the concert started after "Red", with a flurry of special guests appearing on stage and congratulating Mori Calliope on her major label debut. First, Calliope disappeared from the stage for a short time, only to return and be accompanied by Gawr Gura, also from hololive English. They performed their collaboration song "Q" and when they belted out the lyrics "We are Queens", it gave off a strong boasting hit. Afterward, the two gave friendly banter which hyped up the audience, and one couldn't help but feel the cute yet dark energy of the Reaper.
– Song 6: "Q"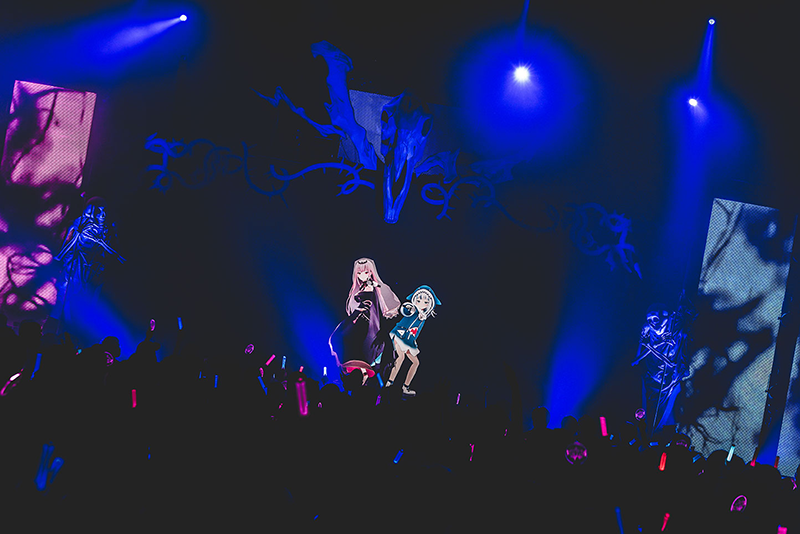 "You want more? You Dead Beats at the venue can still party, right?" After this brief MC section, the hololive English -Myth- members, the unit to which the two belong, joined the concert as backup dancers to what could be considered Calliope's theme song, "The Grim Reaper is a Live-Streamer".
– Song 7: "The Grim Reaper is a Live-Streamer"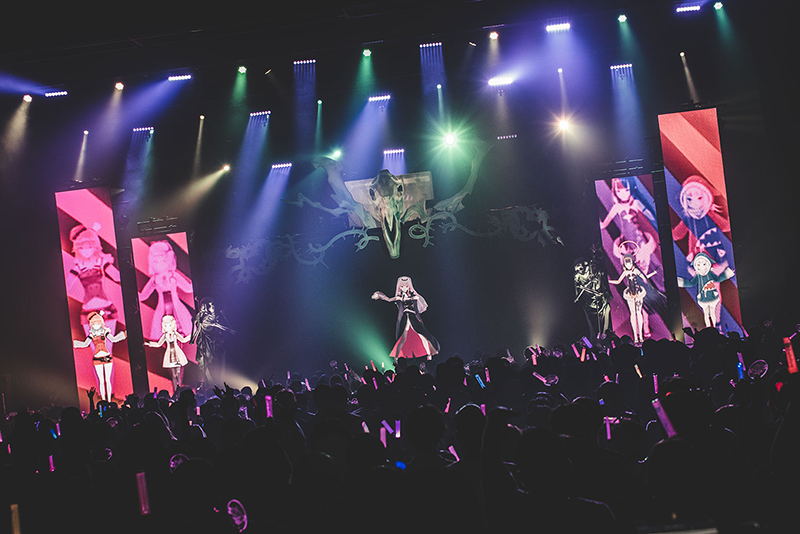 Once the hololive English -Myth- members left the stage, in approached the comet herself, Hoshimachi Suisei. Greeted with tremendous applause, Suisei showed the audience her rapping skills with the collaboration song "CapSule". After the song, Calliope was surprised to hear Suisei's message to her in English, replying with, "I was surprised because you didn't say anything like that during the rehearsals!" In a response to the question, "Wanna take over the world?" the two sang "Wicked feat. Mori Calliope" together, creating an even greater sense of unity with the audience.
– Song 9: "Wicked feat. Mori Calliope"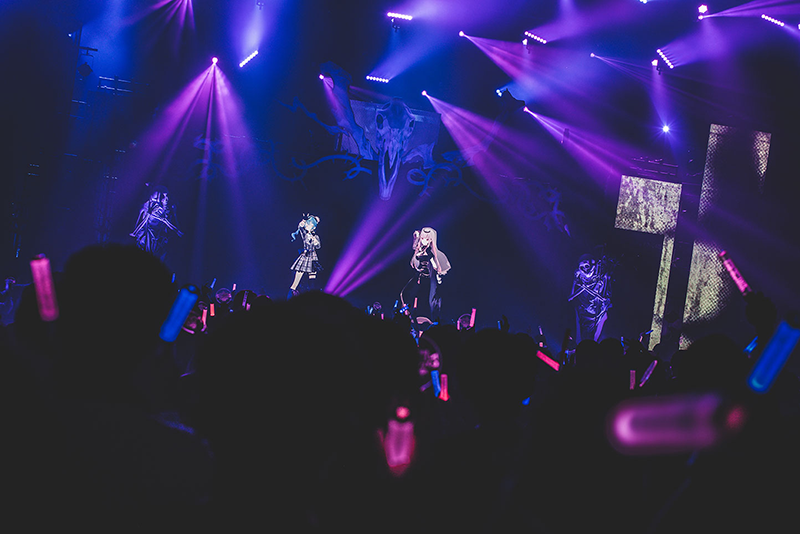 The special guest appearances didn't end there. After mentioning that another rapper was here to join, Tsunomaki Watame was brought out. Their brand-new original song featured high-speed raps and flows, and Calliope admonished, "Watame-senpai, it's already over!" A light back-and-forth between the two included sentences such as, "You want to sing something other than rap, don't you?" and "I'll want to respond to that at your concert!" After calling out to the Dead Beats once again, the two got right into gear with "Cloudy sheep feat. Mori Calliope", a song with an edgy beat.
– Song 11: "Cloudy sheep feat. Mori Calliope"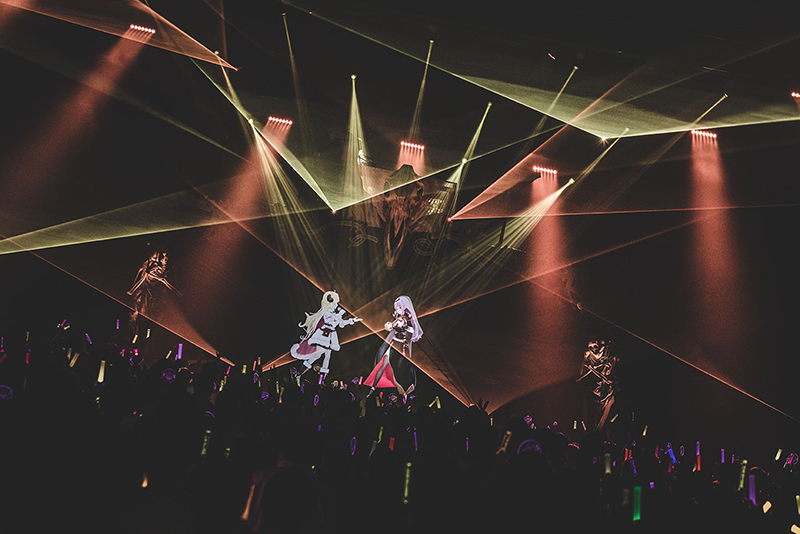 Catching her breath after the extended encounters with her hololive companions, Mori Calliope took to the stage solo once more. "IJIMEKKO Bully" is a song that has a captivating atmosphere and hearing it live once again proved the depth of Mori Calliope's talent. The melodious beat of "UnAlive" gave rise to huge flames on the stage, which sent the Dead Beats to the underworld with gusto. With her aggressive vocals, Calliope ran from side to side of the stage with such style that it was hard to believe that this was her major debut concert.
– Song 13: "UnAlive"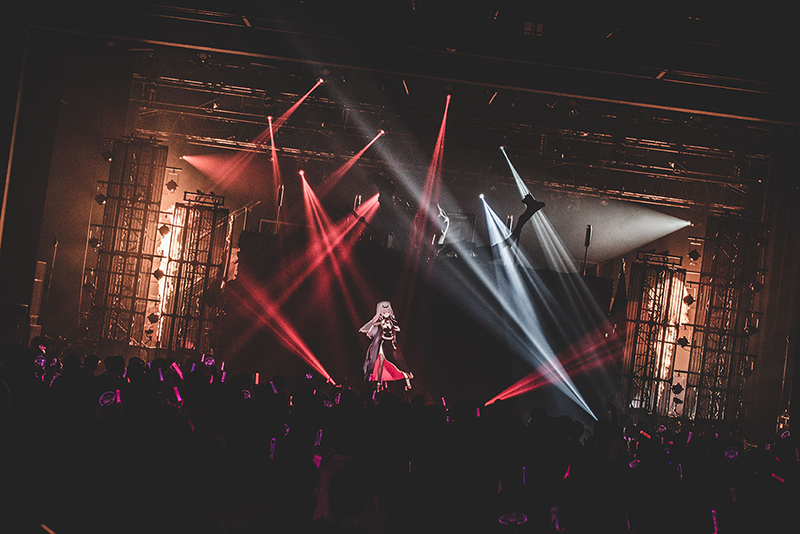 In "Dawn Blue", the Dead Beats responded to the fast-paced beat by clapping as if to say, "Here we go!" A swelling of emotions radiated from the stage and audience, giving a glimpse of the "New Underworld Order" perfection.
– Song 14: "Dawn Blue"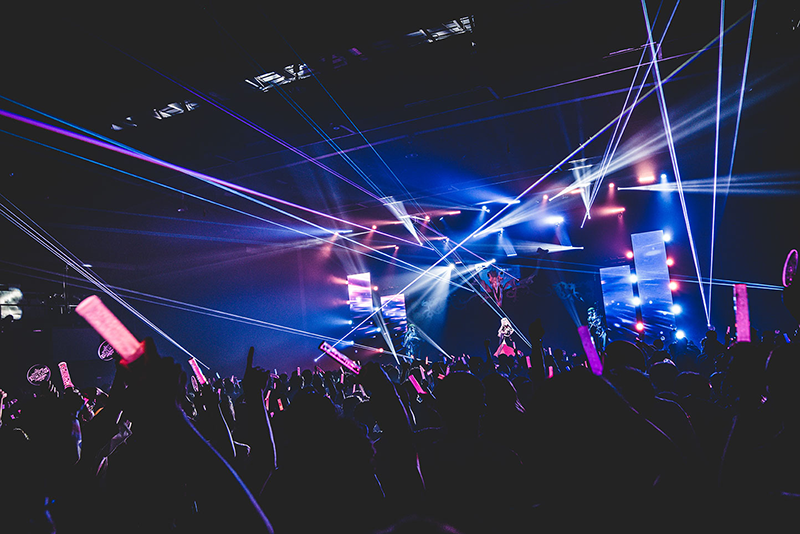 At the height of enthusiasm, Calliope spoke to the audience once again. She prefaced with, "Please let me talk to you for a bit," and expressed her gratitude to her hololive coworkers, her friends, and her fans. She stated that this was not the end, it was only the beginning of her career, not only as a VTuber, but as an artist. She also expressed that she would never betray her Dead Beats, and that she wanted them to continue following her. Calliope stood on stage not as a character with a virtual existence, but as a single expressive person. Reflected on the screen, she showed resoluteness, burning with determination. This emotional MC was followed by "Lose-Lose Days". Responding to her own words, which could be taken as a statement of determination, the Dead Beats' claps grew to a stunning crescendo. This was followed by "Scuffed Up Age", with her comfortable vocals enhancing the emotional impact of the song further, and then "Live Again", with its chill lo-fi beat, the keyboard sounds echoed through the hall. At last, "end of a life" was sung, which gave the impression that the concert would be coming to an end. Flamed torches glowed above Calliope, and with the lights dimmed, the venue gave off a sacred aura. It was truly a sight to behold, and showed Calliope's skills as an expressive artist who creates new worlds.
– Song 18: "end of a life"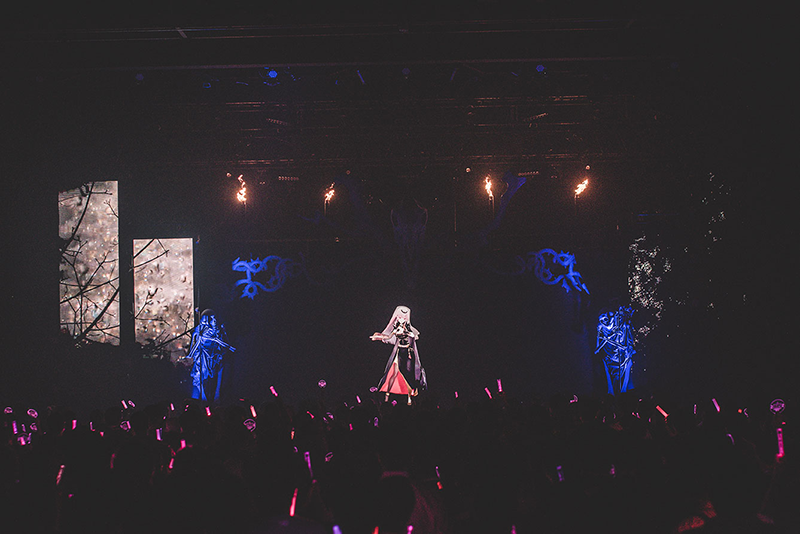 Calliope once again disappeared from the stage. Shortly after, the flood of claps from the audience spread like wildfire, as they demanded an encore. Before long, the question "Are you ready?" was plastered onto the screen, and Calliope was back on stage! Her outfit was different from previous ones. She was wearing black pants which gave off a more natural, hip-hop feel. She even happily explained, "Look at this! It's perfect! I can rap like crazy in this!" With those words, she started the encore with a ton of energy, jumping and dancing around. And the final special guest showed up at long last. Standing above the center of the stage, TeddyLoid took over the DJ booth. They kicked off with "Make 'Em Afraid", a song whose music video was recently released, and went on an ever-increasing aggressive assault. The audience kept getting hyped up as it was followed by "DEAD BEATS", one of the most popular songs from her early career with its smooth and solid flows, then "MERA MERA", a popular song that was only recently released. Coupled with TeddyLoid's DJing, the event took on a sudden festival-like atmosphere, with the audience's enthusiasm at full swing. Calliope even acted as her own hype man, where she encouraged the audience with a "Hands up!" while jumping. She rocked the audience and had a blast as she ran around the stage in her new get-up.
– Song 21: "MERA MERA"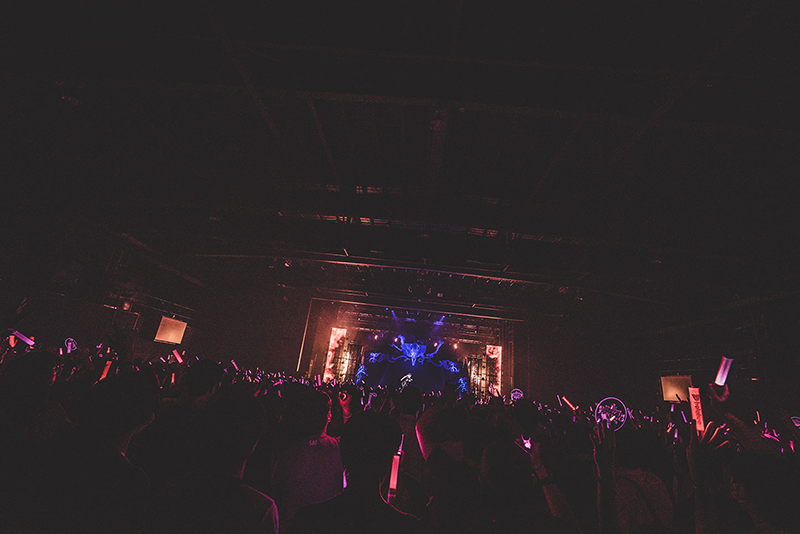 The concert was soon approaching its conclusion. Calliope let the audience know, "There are only three songs left. But I have something I really want to tell you, so please listen. Everyone, turn off your penlights and take out your smartphones." She stated that the audience could then record the remaining songs of the concert with their phones. The Dead Beats response was absolutely exceptional. Once the audience brought out the phones to start recording, Calliope kicked off with "HUGE W", a fitting song for this sudden turn of events. Her moves became more and more aggressive, and the audience headbanged along with her. A dazzling LED light show emanated throughout the venue, and as the vibe was building towards a climax, she went straight into "Let's End The World" and channeled her reaper attitude throughout her body.
– Song 22: "HUGE W"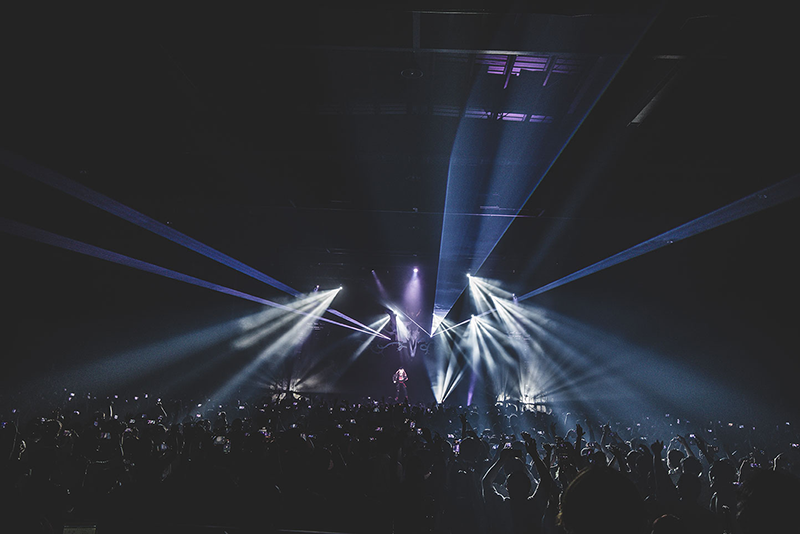 Calliope concluded the concert with her first anthem, "Excuse My Rudeness, But Could You Please RIP?". Explaining how "A Grim Reaper never dies," Calliope once again expressed her gratitude to her fans. With the stage flashing, and her incredible ability to make use of the stage, the concert was filled with intense immersion, like that of a theme park attraction.
– Song 24: "Excuse My Rudeness, But Could You Please RIP?"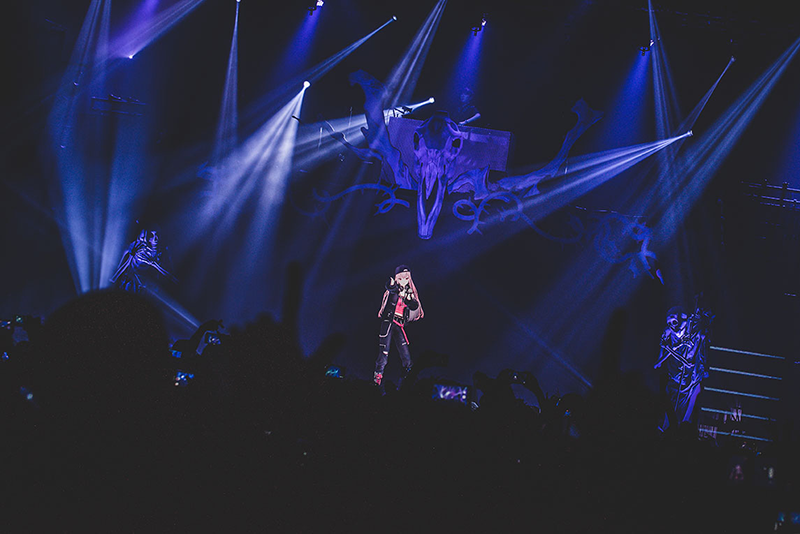 It'd be quite the task to find a live concert where such a mix of Japanese and English resonates so much within you. Even at this moment, there is amazing potential in Calliope's ability to rap and speak in two languages. Mori Calliope, a rapper who is aiming for world domination in the underworld, kept audiences enthralled the entire evening.
Coverage, Article: Shiho Watanabe
Photography: Ayo Kajino (https://twitter.com/ayokajino)
Event Name
Mori Calliope Major Debut Concert "New Underworld Order"
Organizer: COVER Corp., hololive production, hololive English
Producer: CLUTCH / LIVE FORWARD Co., Ltd.
With thanks to: Universal Music LLC
-Guests-
Hoshimachi Suisei
Tsunomaki Watame
Gawr Gura
TeddyLoid
Date/Time
July 21st, 2022
Stream Starts: 6:30 PM / Concert Starts: 7:00 PM (JST)
Ticket Information
SPWN Livestream Ticket: 5,000 yen (tax incl.)
Reception Period: 10:00 PM, May 11th, 2022, to 11:59 PM, August 21st, 2022 (JST)
Ticket Purchase URL: https://virtual.spwn.jp/events/22072102-engCalliope1stlive
* The archive will be made available immediately following the conclusion of the Livestream and available till 11:59 PM, August 21st, 2022 (JST).
* After 11:59 PM, August 21st, 2022 (JST), you will be unable to watch the concert even during time-shift viewing.
EVENTS