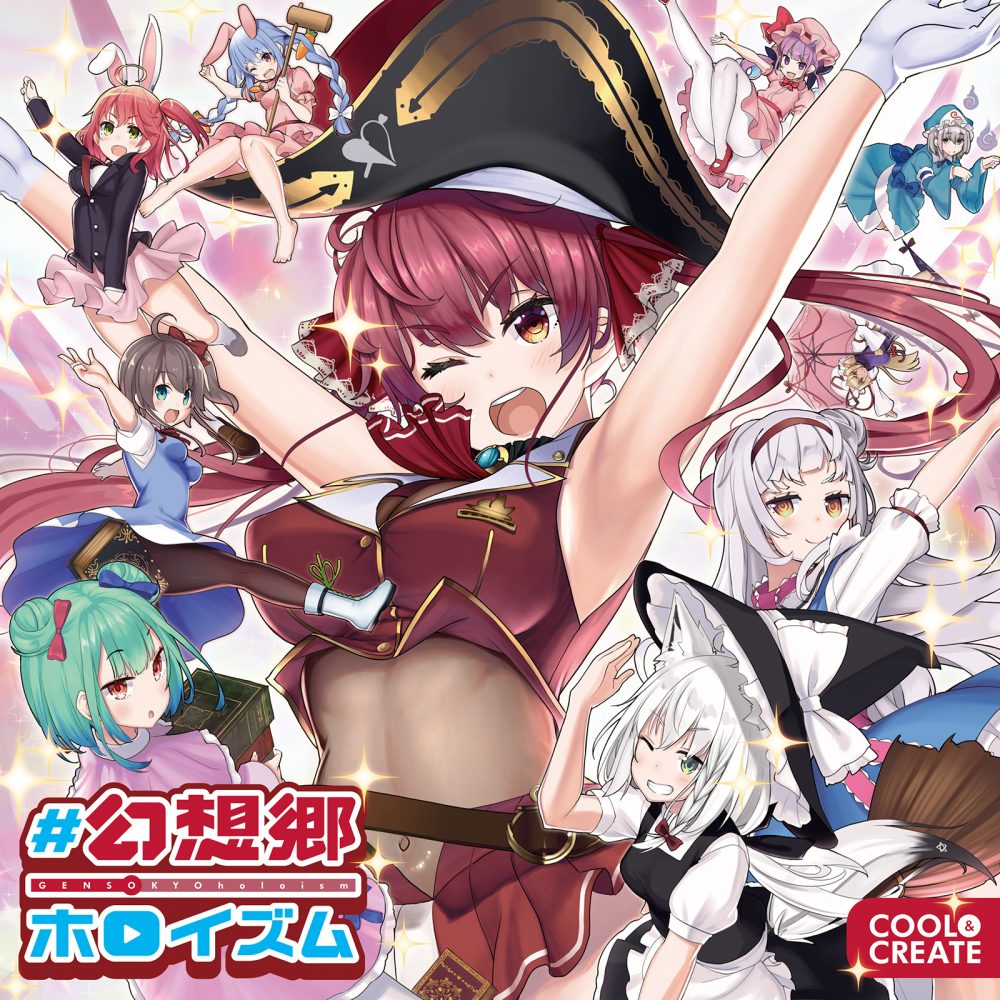 Houshou Marine

#GENSOKYOholoism

Price:¥3,080 Product number: 2020/7/10 on sale

A Touhou vocal arrangement album by Houshou Marine and friends. It has rearranged

Touhou music! It has a voice drama part! It's got everything you could want!

Captain Marine Touhou fan vocal and voice drama CD is finally leaving port!

The CD jacket is reversible! (Illustration by Itou Life & Houshou Marine)

It includes 6 rearranged quintessential Touhou songs! The voice drama is an amazing 40

minutes long! If that wasn't enough, it's also available in "Limited Edition Houshou

Marine's Super Premium Treasure Chest Version"!

It's nice to have fan works like this once in a while too! It's a totally new type of Touhou fan music, brought to you by COOL&CREATE!

Starring:

Houshou Marine (Houshou Marine)

Guest appearances:

Usada Pekora (Inaba Tewi)

Sakura Miko (Reisen Udongein Inaba)

Murasaki Shion (Alice Margatroid)

Shirakami Fubuki (Kirisame Marisa, Yakumo Ran)

Uruha Rushia (Patchouli Knowledge)

Natsuiro Matsuri (Cirno)

Minato Aqua (Remilia Scarlet)

Shirogane Noel (Saigyouji Yuyuko)

Shiranui Flare (Yakumo Yukari)

Click here to DOWNLOAD here! Click here for "#GENSOKYOholoism" special site!
Track List
01. 【[Episode 0] Roujinkai hicchou, Inishie no Touhou arrange shibari utawaku
02. Hoihoi*genso holoism (Houshou Marine with Holoism fantasy)
03. Captain Marine no ketsu anchor (Houshou Marine)
04. [Episode 1] #Marine meisochu. Kono chikurin, nukedaserunoka…!?
05. Shiawase usagi PekoMikoMarine (Usada Pekora,Sakura Miko,Houshou Marine)
06. [Episode 2] Sanmajoteirei meeting kaijo ha kochira
07. Earphones romance (Houshou Marine)
08. [Episode 3] Gensokyo gakkari meisho kankou!!
09. [Episode 4] Shuku, Gensokyo Tokusetsuhaishin room yori hatsuhaishin!
10. Over the Border (Houshou Marine feat.Shiranui Flare)
11. [Episode 5] Arigato Gensokyo
12. Help me, ERINNNNNN!! #Gensokyo holoism ver. (Houshou Marine to yukaina nakamatachi)